Tungjatje'ta nga Albania (Hello from Albania)!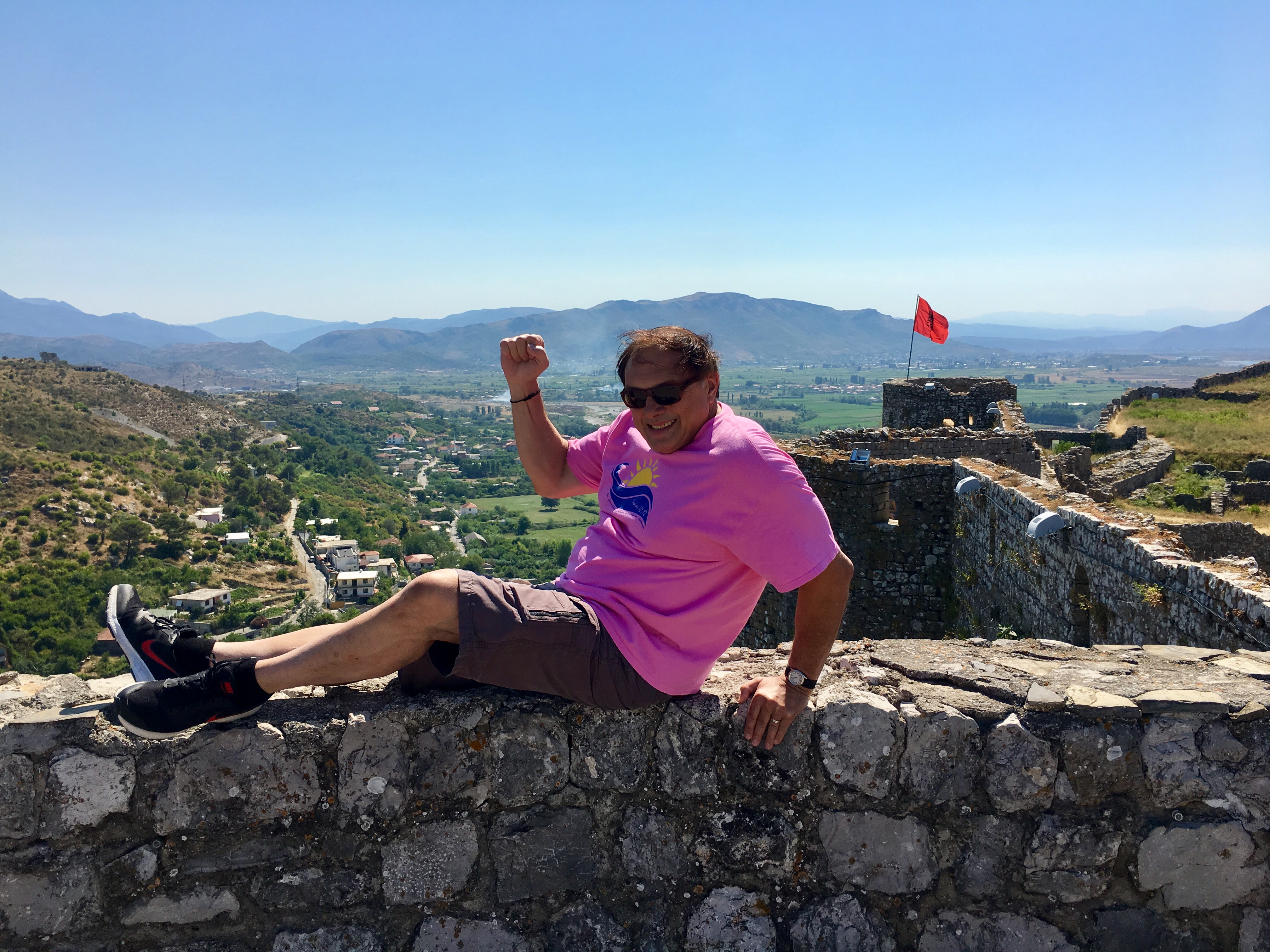 All of our people and luggage arrived without incident on Friday morning around 10:30. We were quickly whisked away by our friends and English Camp leaders, Dionis and Jetmira, and arrived in Shengjin approximately 1 1/2 hours later.
We were allowed a quick potty break and then began a favorite sport of JFBC team members visiting Albania... Olympic-style EATING. I won't mention that most of us had already eaten 3 to 4 times on our way here, but that was nothing compared to the 7-course lunch we were served in the hotel dining room! I could probably name all 7 courses, but it makes me a bit nauseous just thinking about it.
Afterward, Dionis attempted to orient us to the happenings of the upcoming week, however half of us were trying to keep our eyes open, and the other half were in a food coma. When that was finished, we had approximately 2 hours of free time. Some went for a walk on the beach, others went for a swim, and those with a little common sense (I won't mention names) took a nap. Once our break was over, you'll never guess what came next... DINNER! That's right, we headed to a beachside, open air restaurant where we watched the sun set and ordered and consumed 5 pizzas! It was both beautiful and ridiculous. Then, as if that wasn't enough, Bruce twisted our arms and convinced us to stop by a gelato shop for dessert. Okay... enough about food!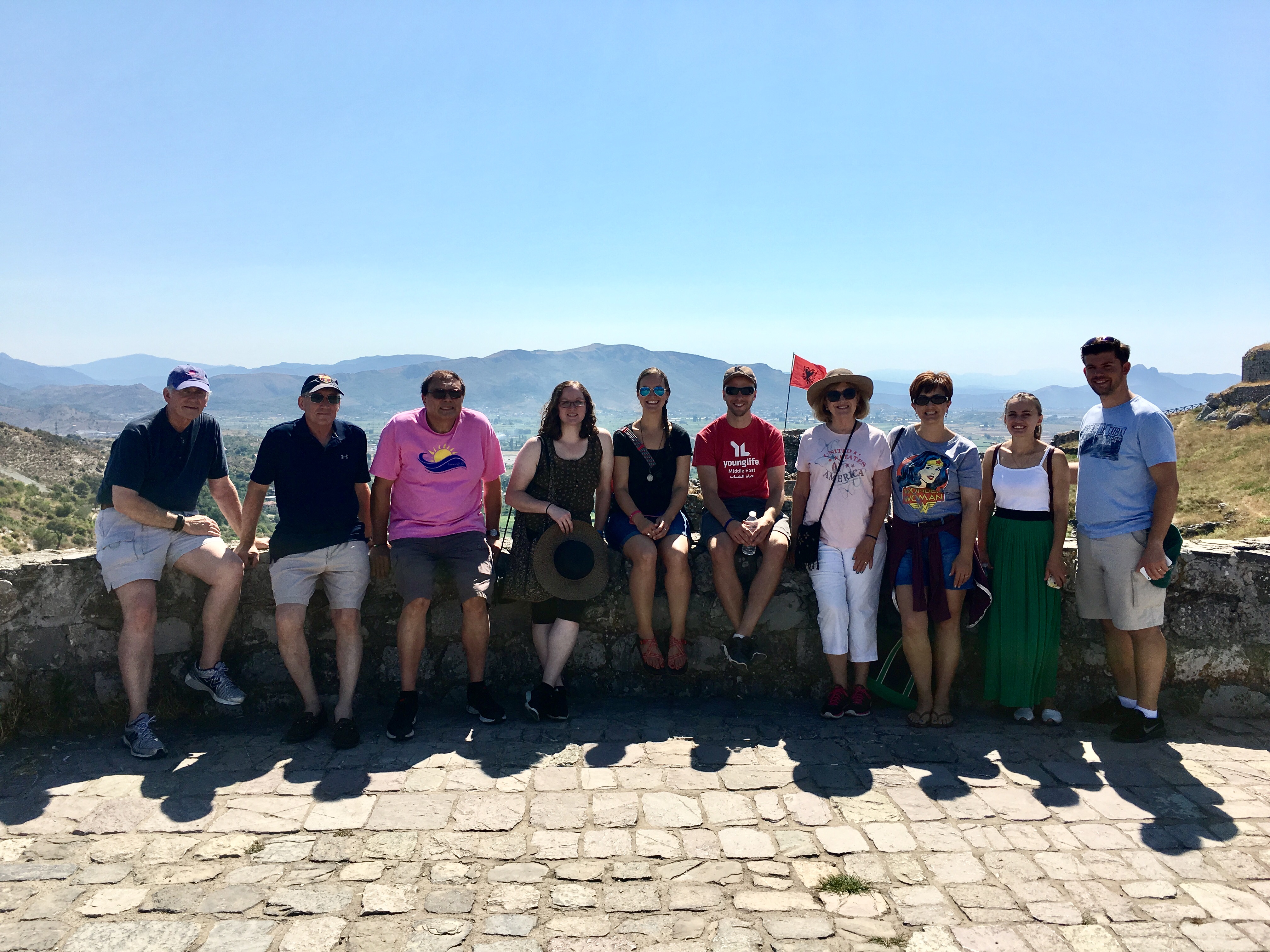 The next morning we went on a sightseeing tour of Rozafa Castle in Shkodra, which was an Illyricum stronghold until the Romans captured it in 167 BC. There is a creepy legend about three brothers who were building the wall and had to bury one of their wives within the wall to keep it from falling. The one who was chosen made an absurd request, which I will let those of you who are interested read on your own. Simply google 'Legend of Rozafa Castle'.
From there we traveled treacherous roads in a less than reliable mini-bus to get to our lakeside lunch. Arriving an hour late, our fearless leader, Jim, chose to rest in a nearby hammock in order to allow God's peace to wash over him. We had to leave him there, as God had much work to do (KIDDING)!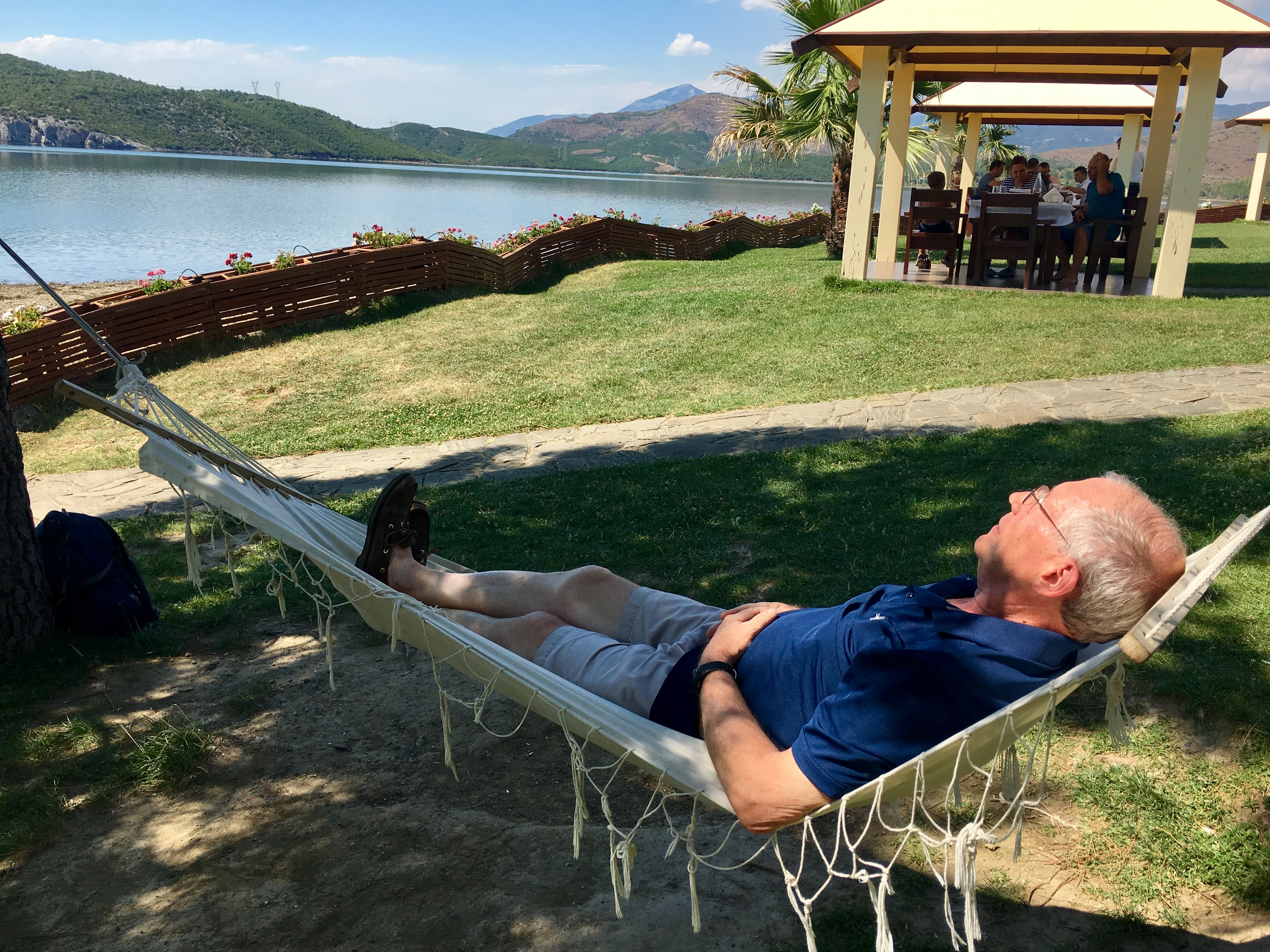 When we got back to the hotel, we set up four classrooms for the 36 students who arrived today. We began by testing each of them and placing them in beginning, intermediate, and advanced groups. Then, we played games and danced into the night. As is usual, Bruce wowed us with his style and grace, and Laurie is now recovering from a knee injury!
Classes begin in the morning, so please pray for our effectiveness as we teach and build relationships. Of course, our greatest hope is to share the love of Christ with these sweet, young adults. We're trusting God to do great things and look forward to sharing more with you later in the week.
Blessings and love from Albania English Camp Team 2017
Sherry and Jim
Bruce and Karen
Janie
Wes
Laurie
Ashleigh
Kelly